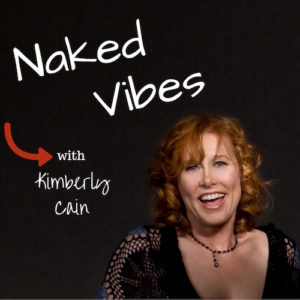 Thanks for tuning in to the Naked Vibes Show with Kimberly Cain!
Kimberly Cain (aka Kim Brown Cain) is an award winning songwriter/performing artist, author, speaker, producer, & human potential catalyst. Using music & media to entertain, challenge & transform, she is passionate about inspiring people into freedom from self-imposed boundaries. She is a Certified High Performance Coach® & Remo Drums HealthRHYTHMS® facilitator.

Kimberly has opened concerts for artists such as David Bowie & Sarah McLachlan (Lilith Fair), & had her music featured on Dateline NBC. She has produced entertainment for Dallas Cowboys & has been the voice of campaigns for clients such as Coca-Cola & Sheraton Hotels, as well as morning drive DJ on KZEW-FM rock radio. She has been a part of production teams for Oprah, U2, BB King, & Phil Donahue.
Kimberly is the author of the paradigm-shifting novel, Heaven, a story of healing the perceived separation between the physical & spiritual self. She is also founder of The REALM, as well as RockIt!U – entertainment & educational entities creating world-evolving shifts in consciousness.

Kimberly's guidance has shifted many individuals & diverse audiences into the awareness of their power to live lives of excellence, joy, & freedom.
Learn more at KimberlyCain.com