Podcast: Play in new window | Download (Duration: 48:13 — 55.2MB)
Subscribe: Apple Podcasts | Google Podcasts | Spotify | Stitcher | TuneIn | Deezer | RSS | More
Dean Lindsay dares you to ask, "What's possible?" He's a multi-talented business thought leader, drawing from his background in performance & songwriting in order to be helpful to others.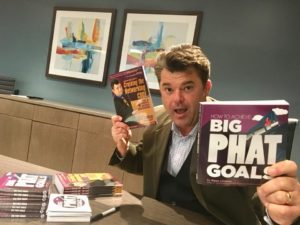 Dean has performed for audiences all over the world as a vocalist for Up With People. He's authored three business books and has much to share on the ways we can all make a difference in our own lives and in the world. Infusing music into his presentations for corporate and teen organizations alike is just one of the ways he intends to rock your world.
SHOW NOTES:
2:56 – Story of Dean's return to music after a few years away from the craft.
3:41 – Rock music is meditation for those of us who come from that background.
4:39 – Dean's journey through meditation courses with The Art of Living. The breathing exercises he learned helped him reduce stress when he most needed it. As a thought leader and performer, breath exercises are essential for staying centered.
9:16 – SONG: "Long Breath In"
15:00 – Remo Drums HealthRhythms® – a drumming protocol backed by scientific evidence for reducing stress, releasing cancer-fighting cells into the bloodstream & promoting overall health & wellness. My trainer in this protocol is a long-time friend & colleague of Dean's. Christine Stevens was instrumental in putting Dean in front of audiences all over the world as a solo vocalist in Up With People. Dean talks about how he pushed through the fear that was holding him back prior to this experience.
17:46 – Musical training & performing has helped Dean in business applications, as a thought leader, & with the understanding of people & how to be most helpful & compassionate. He talks about Love as an essential attribute in life & business & the misconception that it's a frufru concept. It promotes curiosity & growth. It manifests in respect & willingness.
20:41 – Big Phat Goals is being embraced by, not only corporate groups, but also teen organizations. The audio version of the book contains the song, "Long Breath In".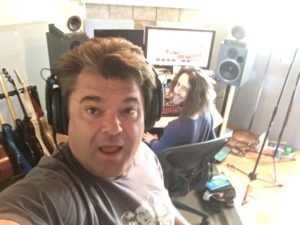 22:23 – It's never too late & there is never a wrong time to connect with music & creativity. Dean talks about the importance of reconnecting to this energy in his own life & the meaning of being a "whole person".
27:32 – Building a business presentation uses essentially the same tools as writing a song.  It's all "stating your case".
28:00 – Dean's message comes from a spiritual place. It's not a religious message, but it carries a message of encouragement & progress.
Self-talk is powerful & Dean endeavors to teach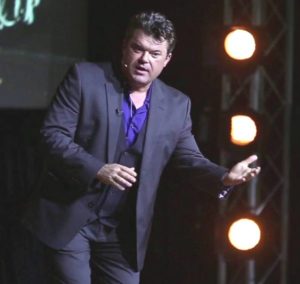 people how to transform the way they see & talk to themselves.
30:22 – Instead of moving from "negative" to "positive" thinking, Dean explains that the next best step can be to move from "negative" to "possible". It may be a very small step that progresses you into the positive. Dare to be all you're made to be.
33:26 – Walking with no headphones, no buddies, no other distractions leads to greater clarity & broader perspectives. It's an essential tool for creativity.
34:45 – Dean is no longer looking to write "good" songs, but to write "helpful" songs. We can use music to create better health for ourselves & better lives. Music is a very intimate medium of communication & can reach places in people like nothing else can.
37:13 – Songs or other manifestations of creativity can often become the "friend" to another person in their darkest moment. Once you release your creation into the world, it becomes its own entity with a life of its own.
39:38 – Dean shares the story of performing his song, "Can't Fight The Devil On Your Own", at the House of Blues, which led to a songwriting connection with the group, The Relatives. The son of the group's founder explained that his father always wrote songs from a "place of suffering" & this impacted Dean's own writing.
42:21 – SONG: "Can't Fight The Devil On Your Own"
45:02 – Dean introduced me to the guys at SyncLab Media who shot video at the Local Honey Holiday Show in 2016 & helped me create the opening video sequence for Naked Vibes TV. Dean is an expert at creating good, lasting business relationships & a thought leader on creative ways for you to become your best self. Dive into his books to learn how he does it.
• Rhythmic Movement Meditations – Music is scientifically proven to provide health benefits in every area of life. Use these tools to help you connect with your highest state of excellence & primal essence, so you can shift your energy for greater clarity, courage, focus, & vitality. A potent combination of your sexual energy combined with your spiritual energy. GET THESE POWERFUL MOVEMENT MEDITATIONS NOW! & experience it for yourself. Listen to this attorney talk about his experience of finding a new position as a corporate VP when he used these meditations.
•  Please understand this is not a claim that you will have the same or similar experiences. Rhythmic Movement Meditations are simply tools to help you learn to shift your own energy through powerful practice.
• The Naked Vibes Show is sponsored by RockItU – Get a Free Video to help you hone your intuitive skills for practical use in everyday life.
Sign up for Kimberly's newsletter to stay in the know about upcoming videos, courses, performances, & more! Get a free "Instant Ignition" eBook to help you tap into your most powerful creative energy when you confirm your subscription.