Podcast: Play in new window | Download (Duration: 31:39 — 36.2MB)
Subscribe: Apple Podcasts | Google Podcasts | Spotify | Stitcher | TuneIn | Deezer | RSS | More
This Tune Your Vibes segment of The Naked Vibes Show will help save the planet by making you a better lover & keeping the sexual fire stoked in your marriage. Yep. More & better sex in your marriage means less divorce in the world. Giddy-up!
SHOW NOTES:
:29 – Show sponsored by RockItU – Rhythmic Movement Meditations. Audio tracks that take you on a journey to awaken your energy for vitality, courage, drive & passion. Especially helpful if your sexual energy has been numbed out. As a performer & a Remo Drums HealthRhythms Facilitator, I've seen the powerful & evidence-based shifts in energy that can be created through drumming. Download & play them on good speakers, so you can feel the low end frequencies. Then let me know, in the comments, about your experience using them!
1:30 – Sex + God – get these two powerful energies connected!
1:52 – Too many married couples are not having sex.
2:25 – Sex is a mysterious place where we can go to meet God.
3:35 – Love is the key.
4:20 – God minus sex can mean no movement or creativity.
4:29 – Sex minus God can lead down a long, dark tunnel into numbness.
5:24 – Sex in the media. Why does it get such good ratings?
5:50 – Porn, used to take the place of intimacy in marriage, eventually leads to desensitization.
6:56 – Why do we have to engage in intimacy? Why can't we just f*#k, already?! When you create intimacy, you can have both. It's up to you to create it.
8:10 – Daily spiritual practice can bring new ways of seeing & experiencing yourself & the other person.
9:24 – Falling in & out of love is not a real thing. You choose a state of love, so if you step out of it, you can, intentionally, step back into it.
10:30 – Many marriages that are not engaged in a loving sexual practice end in divorce. It doesn't have to be that way. You can reconnect through intentional sexual practice. Disconnecting sex from spirit = death!
12:21 – Listening to deep bass grooves in music can bring on sexual feelings. It's a vibration that travels through the body. Use it to awaken the energy.
12:57 – Spirituality is sexy!
13:49 – Religion is not the answer to spiritual balance, as most of it is pretty uncomfortable with sexuality.
14:10 – Good sex is God+Sex. It releases pleasure-producing hormones & brings joy.
15:18 – Music is a way to invigorate & enliven your sex life & reach into higher states of being. Sex, engaged intentionally as a practice of love, can change everything in your marriage.
16:07 – SONG: "House of Pain" – Frankly Scarlet (Kelly Brown & Kim Brown Cain).
Frankly Scarlet opened David Bowie's Sound+Vision Tour & performed at Lilith Fair with Sarah McLachlan & Bonnie Raitt. The song, "House of Pain", was featured on George Gimarc's Tales from the EDGE CD, put out by Dallas radio station KDGE.
21:01 – Challenge to married people: Make more love! Your own joy, pleasure & health will ripple out into your family, your workplace & the world.
22:09 – Rhythmic Movement Meditations get you connected & aligned in your body & your spirit to help awaken your energy. Music is scientifically proven to provide health benefits in every area of life. Use it intentionally. Empower yourself. Download the meditations & experience it!
Watch this video, on NakedVibes.com, of an attorney who shifted from anxiety during a long job transition & into a knowledge of his own personal power in less than 30 days, by using these Rhythmic Movement Meditations. He credits this as one of the primary tools that gave him the courage & energy to present himself more fearlessly & landed him a position as a corporate VP. That's the creative energy at work. And it's no different than the energy you can awaken in your marriage & sex life.
 Todd Watson – Attorney, Vice President, Marco's Franchising
23:05 – "Beyond Religion: How to Pray & Get Answers" – If it's hard for you to find your connection to a Higher Source, this video series can help. Get a Free Video from the series.
24:20 – Heaven, a novel – shifting perspectives in the way God & sex relate.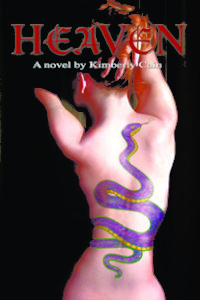 25:14 – SONG: "Heaven" – Kimberly Cain – from the CD that comes with the novel.
29:44 – As a Certified High Performance Coach, clients have often come looking for career guidance or new life direction, but eventually end up talking about their sex life not being what they want it to be. And that affects everything. If you're interested in coaching or intuitive guidance, you can contact me through the form below.
***********************************
• The Naked Vibes Show is sponsored by RockItU – Rhythmic Movement Meditations. Audio tracks to awaken your energy for vitality, courage, drive & passion.
• There's no guarantee that you'll have the same results with any of the tools listed above, but using them can help you gain new perspectives. And that may create dramatic shifts in your life. Let me know how they work for you!