Podcast: Play in new window | Download (Duration: 43:46 — 50.1MB)
Subscribe: Apple Podcasts | Google Podcasts | Spotify | Stitcher | TuneIn | Deezer | RSS | More
Want more? Abundance begins with gratitude for what you have now.
It's rare to find a person who doesn't want more than he already has. It's part of the human condition. And, that's fine, because it drives us to be our best. The thing is, it can also rob us of our happiness.
When we spend our time wanting, never recognizing what we already have, we're choosing to experience a state of lack. That mindset can last a lifetime. Because, most often, what we "get" isn't quite what we thought it would be, so we have to start "wanting" again.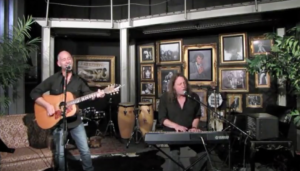 Gratitude will get you out of that loop, pronto. Start saying "thank you" in your heart. It'll free your mind.
This podcast episode & video from the live REALM Gathering is full of great music from Bryan Wakeland (Polyphonic Spree, Tripping Daisy) & Brian Miller. Listen & let it fill you up with gratitude & thanksgiving.
To get you to spots of interest in the video quickly:
0:00 – Welcome to The REALM
:50 – How often are you out of gratitude?
2:43 – the quickest remedy for getting out of lack & into feelings of abundance
3:33 – Song – Bryan Wakeland with Brian Miller – "Devil in Paradise"
7:45 — Gratitude as the key to Abundance – recognizing in a conscious way
10:22 – Story of chameleon visiting again, as a reminder of Love's presence
13:46 – A Course in Miracles teaching about the size of miracles & how to "receive" them
15:05 – Why is "receiving" so difficult for us? Accepting thanks.
15:43 – The transference of "goodness" requires us to open & receive. "You're welcome", instead of
16:20 – "You're welcome" says, "I'm happy to have done that for you." Very different from "No problem" as a response
17:12 – Recognizing the love that we have to give
17:48 – Story of Sedona, AZ teaching Higher Consciousness & Native American understanding of the lessons of the land
20:10 – taking the word God out of religious framework & recognizing it as "goodness"
21:13 – Creation rejoices with us in our thankfulness. Watch how a rescued animal responds to you!
21:53 – Presence of the "I AM" fills us
22:27 – Christ Consciousness – nothing can harm us when we fill ourselves with this
23:07 – Song – Bryan Wakeland with Brian Miller – "Rainy Day Jesus"
26:59 – Movement Meditation – "Grateful Heart" – with Brian Miller
32:17 – Song – Bryan Wakeland with Brian Miller – "So Free, That's Me"
35:36 – Radical EvolutionAry Love Makers – what does that mean?
• Rhythmic Movement Meditations – Music is scientifically proven to provide health benefits in every area of life. Use these tools to help you connect with your highest state of excellence & primal essence, so you can shift your energy for greater clarity, courage, focus, & vitality. A potent combination of your sexual energy combined with your spiritual energy. GET THESE POWERFUL MOVEMENT MEDITATIONS NOW! & experience it for yourself. Listen to this attorney talk about his experience of finding a new position as a corporate VP when he used these meditations.
•  Please understand this is not a claim that you will have the same or similar experiences. Rhythmic Movement Meditations are simply tools to help you learn to shift your own energy through powerful practice.
• The Naked Vibes Show is sponsored by RockItU – Get a Free Video to help you hone your intuitive skills for practical use in everyday life – from the online video course, "Beyond Religion: How to Pray & Get Answers".
Sign up for Kimberly's newsletter to stay in the know about upcoming videos, courses, performances, & more! Get a free Instant Ignition Worksheet to help you tap into your most powerful creative energy when you confirm your subscription.