Podcast: Play in new window | Download (Duration: 1:10:23 — 80.6MB)
Subscribe: Apple Podcasts | Google Podcasts | Spotify | Stitcher | TuneIn | Deezer | RSS | More
Guitarist, songwriter, & producer, Jamey Perrenot, shares adventures of his christening into rock superstardom while touring Argentina with Guardian,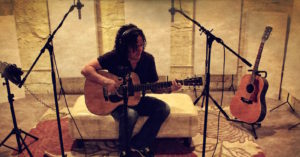 to his experience in the studio with a female WWE champion, to the spiritual works that have most deepened his faith.
He shares some sweet moments playing acoustic guitar live from his Nashville studio in this episode, along with some rockin' songs written for upcoming films. As you'll hear, we had too much fun, so I'll just have to invite Jamey back for another round.
SHOW NOTES:
3:23 – Jamey talks about how he makes his songwriting collaborators comfortable in the sometimes uncomfortable moments of getting started on a project. Great tip for applying to relationships in any area, both personal and business!
7:23 – Challenging communication requires us to become fully present in order to come to resolutions.
8:05 – Writing songs for movies adds a new level of collaborative effort. Jamey talks about the process of creating music for pictures.
9:57 – SONG: Excerpt from "Help Me" performed by Kat Perkins (from The Voice). Producers/Songwriters, Jamey Perrenot & Sean Gasaway.
11:16 – Stories about Jamey's experiences playing guitar and touring with LeAnn Rimes.
13:20 – Bands and collaborative partnerships can be like a marriage, sharing intimate parts of ourselves with one another and allowing our vulnerability to open the door to creativity.
13:45 – Guys who know how to hang well with women. Why do some men know how to do it while others create sexual friction (and not in a good way)?
16:15 – Jamey's experience working with WWE superstar, Mickie James. She's a cool chick who wrestles and sings and…FYI…she can throw a grown man down!
18:14 – Jamey works with a lot of women as a producer in the studio and as a touring musician. The current climate of sexual harassment accusations that have been coming out regularly in the news affects men as well as women. He talks about the way it's affected him.  #MeToo
20:42 – Intentions make all the difference in the way we, as men and women, interact with one another. We have to use compassion and discretion in allowing people to be themselves, in addition to being strong enough to draw clear boundaries when necessary.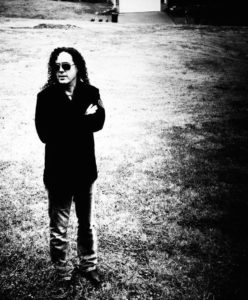 26:45 – Jamey hasn't personally witnessed abuse. I wonder if it could be that the presence of an upstanding guy prevents other guys with ill intentions from acting on them.
29:33 – We need men to be men. The interplay of the masculine and feminine is creative energy and it's very powerful. We all need the freedom to express ourselves, but in order for that to occur, we must create an environment of trust. Men who create an environment of genuine safety get to experience the best and most playful feminine energy because women know they are respected and loved.
32:17 – LIVE ACOUSTIC PERFORMANCE – Jamey plays the intro to "Almost Home", recorded by Guardian
Sign up for Kimberly's newsletter to stay in the know about upcoming videos, courses, performances, & more! Get a free "Instant Ignition" eBook to help you tap into your most powerful creative energy when you confirm your subscription.
33:55 – Jamey talks about the experience of playing acoustic versus electric guitar
35:30 – Story of Jamey's induction into the Christian metal band, Guardian, when they toured Argentina and played for a crowd of 80,000 fans in Buenos Aires.
38:35 – SONG: "Firefly" – Written and recorded by Lost Days of Summer – Jamey Perrenot and Jamie Rowe (lead singer, Guardian). Get it on ITunes.
42:50 – The inspiration behind "Firefly". Many songs "coincidentally" turn out to have a meaning that was never intended when the writing began.
44:00 – Influences of Dr. Wayne Dyer, Eckhart Tolle, and The I Am Discourses open up creative spiritual thinking and eventually deepen our faith in more traditional spiritual works like the Bible.
47:00 – People need Good News, but they often think spirituality shouldn't be connected to money. Connecting our money to the message, however, allows us to spread it further. The intention behind it is what makes the difference.
48:58 – Bible interpretations are many and can be confusing and sometimes nonsensical. Jamey's exploration of other works, instead of leading him away, have clarified the message of Jesus for him.
51:43 – Do you want to know who you really are in relation to your spiritual beliefs or do you feel safer if you just stick to what other people tell you to believe? Jesus was not a part of the status quo during his time on Earth. Neither is his message today.
54:00 – Works created from a place of Love are safe. God and Love are the same.
54:46 – Jamey talks about the way his spiritual journey has affected his creativity, songwriting and collaboration with others.
56:05 – LIVE ACOUSTIC PERFORMANCE – Jamey plays a piece from "You and Me", a song he wrote for his project with Jamie Rowe – Lost Days of Summer.
58:00 – SONG: "House of Pain" – Written by Kelly Brown, Performed by Frankly Scarlet, the duo I shared with my sister Kelly. Jamey played lead guitar for several years in this band. I love his solo in this song!
1:02:48 – Jamey talks about the creation of "Watching the Days". It's all about the Beatle-inspired drum groove.
1:04:40 – SONG: "Watching the Days" – Written and recorded by Jamey Perrenot and Jamie Rowe as Lost Days of Summer.
• Rhythmic Movement Meditations – Music is scientifically proven to provide health benefits in every area of life. Use these tools to help you connect with your highest state of excellence & primal essence, so you can shift your energy for greater clarity, courage, focus, & vitality. A potent combination of your sexual energy combined with your spiritual energy. GET THESE POWERFUL MOVEMENT MEDITATIONS NOW! & experience it for yourself. Listen to this attorney talk about his experience of finding a new position as a corporate VP when he used these meditations.
•  Please understand this is not a claim that you will have the same or similar experiences. Rhythmic Movement Meditations are simply tools to help you learn to shift your own energy through powerful practice.
• The Naked Vibes Show is sponsored by RockItU – Get a Free Video to help you hone your intuitive skills for practical use in everyday life.
Sign up for Kimberly's newsletter to stay in the know about upcoming videos, courses, performances, & more! Get a free "Instant Ignition" eBook to help you tap into your most powerful creative energy when you confirm your subscription.