Podcast: Play in new window | Download (Duration: 1:03:17 — 72.4MB)
Subscribe: Apple Podcasts | Google Podcasts | Spotify | Stitcher | TuneIn | Deezer | RSS | More
Where they go, Love goes. Songs & stories from Maylee Thomas & George Fuller.
This husband & wife team are a dynamic duo, performing together for years as the Maylee Thomas band & now leading the city of McKinney, Texas as Mayor & First Lady. We cover everything from Mayor George Fuller's nonpartisan platform & Maylee's Love Life Foundation, which both serve as a mission to unite their community, to the secrets of a spicy marriage & what it takes to rock a satisfying sex life. Maylee & George perform live songs & share great stories & insights at their McKinney music venue & shop, The Guitar Sanctuary. Get ready for some fun!
Enjoy the show on NAKED VIBES TV:
SHOW NOTES:
1:55 – SONG – LIVE PERFORMANCE:
Show Notes:
11:41 – LIVE MUSIC: "I Keep Falling"
31:57 – SONG: "Texas Home"
55:14 – "Crazy's What I Need"
• Rhythmic Movement Meditations – Music is scientifically proven to provide health benefits in every area of life. Use these tools to help you connect with your highest state of excellence & primal essence, so you can shift your energy for greater clarity, courage, focus, & vitality. A potent combination of your sexual energy combined with your spiritual energy. GET THESE POWERFUL MOVEMENT MEDITATIONS NOW! & experience it for yourself. Listen to this attorney talk about his experience of finding a new position as a corporate VP when he used these meditations.
•  Please understand this is not a claim that you will have the same or similar experiences. Rhythmic Movement Meditations are simply tools to help you learn to shift your own energy through powerful practice.
• The Naked Vibes Show is sponsored by RockItU – Get a Free Video to help you hone your intuitive skills for practical use in everyday life.
Sign up for Kimberly's newsletter to stay in the know about upcoming videos, courses, performances, & more! Get a free "Instant Ignition" eBook to help you tap into your most powerful creative energy when you confirm your subscription.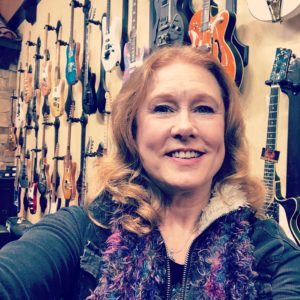 Look at all the toys they've got at The Guitar Sanctuary! See the walls of guitars & more on Naked Vibes TV.