Podcast: Play in new window | Download (Duration: 20:34 — 23.5MB)
Subscribe: Apple Podcasts | Google Podcasts | Spotify | Stitcher | TuneIn | Deezer | RSS | More
Special Edition of The Naked Vibes Show in tribute to Chris Cornell – musician, singer, songwriter – who passed on May 18, 2017, leaving the music community stunned & with a feeling of deep loss. His music – recording & performing with Soundgarden, Audioslave, Temple of the Dog, & several solo albums – has been a soulful part of many a life soundtrack.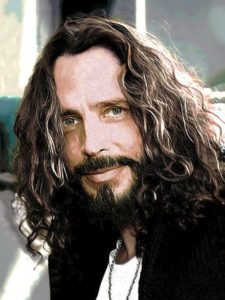 SHOW NOTES:
1:12 – I had a different podcast scheduled for today – an archived conversation with my friend Reggie Rueffer, a brilliant musician/singer/songwriter, who with his band, Spot, was on the same record label as Chris Cornell at one time. Interscope. You'll hear some related music from Reggie in this episode.
1:40 – Chris Cornell's death took the whole music community by surprise & his songs have been running through my mind ever since I heard the news. I've awakened in the middle of the night to "Fell on Black Days" several times. So, I felt it was important for me to change the podcast schedule & talk about him & how impactful his music has been on me. "Fell on Black Days" – Soundgarden from Superunknown

2:05 – Most of it can't be put into words – as is usually the case with any person who passes from our lives – whether in our families, friendships – or in the landscape of our artistic lives. Music is an intimate relationship. It connects all of us. Artists channel our personal, as well as our collective emotions & our deepest levels of expression – levels that many people could never reach without the music. It's a wave that allows all of us to ride.
2:43 – Chris Cornell died just after Soundgarden's show in Detroit – apparently by suicide – though reports say his wife is disputing that & many close friends are shocked because his previous behavior didn't indicate anything like that. She says he may have taken an extra dose of his anxiety medication, of which suicidal thoughts are a potential side effect. So, we don't really know – this is only what's in the news at the moment.
3:10 – Last podcast, I talked about the Divine or Sacred Feminine – & Chris certainly embodied that energy. He was such a masculine man, but his lyrics & music bring forth the mystery of human nature – the deeper secrets, longings & desires – & it taps into those places where all of us house things we don't know & don't understand – the secret places.
3:39 – Death is one of those secret places. One of those places we don't like to talk about much, but we need to – for many reasons & on many levels. For one, to remove the stigma. And also, to bring into the light, the things that cause people to feel alone & eventually find themselves in a place where they believe there is no other choice, but to exit the physical body.
4:05 – When I was writing my novel, Heaven, Chris Cornell's music was a clear & present muse for me as that masculine presence, but one who also embodied the presence of the Sacred Feminine. The passage where Chris' music comes into play is really the darkest & most explicit chapter of the book. It contains lyrics from "Pretty Noose" – Soundgarden from Down on the Upside. Should you read it, that particular chapter will take you on a journey into the deep mystery of the feminine energy – the place where our sexual & our spiritual nature connects. It illustrates the darker side of the feminine energy & how, when out of balance, it can lead us down a darker path than we ever intended to go. Music illuminates that path like nothing else can.
6:10 – In another chapter, the lead character in the book, Eve, is dancing to a song by a fictitious band, XXX. I wrote the lyrics for this song within the chapter, & later completed the music. Because Cornell's music (Soundgarden & Audioslave), along with Alice in Chains, had been such a constant companion during the writing process, I was really feeling that kind of vibe & energy. I could hear Chris performing it. So, when I finished the novel, I recorded a soundtrack to go with it – an EP with several songs I wrote or performed, & some by friends, including my sister & Reggie Rueffer. Reggie sings & plays guitar on it. He & Cornell have a similar intensity & artistry. My husband played guitar on it as well.
Played here as tribute to Chris Cornell & as my thanks for all his music has meant to me.
7:29 – SONG: "Exposed" from the Heaven CD that comes with the novel.
11:41 – The night after Chris' death, I was at a restaurant & overheard a guy at the bar talking loudly about his views on Cornell's alleged suicide. I'd ask you to reserve judgment. We never know how much another person is hurting or what the real circumstances are in their lives that cause their actions. Not even the people closest to them know. When it comes down to it, it's between them & God. We don't have the answers. That's the mystery of our human lives. One thing I do know is that regardless of circumstances, God is present with us.
12:37 – Suicide is on the rise, especially in middle-aged men, which Cornell was at 52. I have personally experienced the loss of too many people to suicide in the last several years. A vulnerable subject for another day as this podcast is more a tribute to a man whose music greatly fueled my own creativity, but it's something we must be aware of or we could all experience more of these tragedies than we would ever want to imagine. I believe many of the drugs being used to "help" various health conditions (especially mental health) are also playing a major role in the confusion that prompts the decisions that lead to intentional suicide & accidental death. Witness the disclaimers in the drug manufacturers' ads.
13:28 – If you're facing difficulty & are too fearful of talking with someone you know, talk with an anonymous person. Trained listeners & counselors can be a bridge into the light.
National Suicide Prevention Lifeline: 1-800-273-8255
U.S. Suicide Hotline: 1-800-SUICIDE (1-800-784-2433)
14:36 -If you're facing grief from the loss of someone you love:
"Good Grief" – an audio recording I made during the worst moments of my own grief, after the loss of my daughter & several other concurrent losses. I dealt with my own pain by creating this recording to help others walk through theirs. We're all in this life together. Serving others can lift you up. I'll post it here as my gift & my hope of helping you walk into light, to the extent that I can. I'm not a therapist – just a friend. I haven't completed the editing of this recording at the time of this podcast. Give me a minute – this will act as a catalyst to finish it & post it for you.
15:37 – One of my favorite lyrics is from the song "I Am the Highway" – Audioslave from the album of the same name.
16:23 – An artist's work can bring us closer to God without their knowing or intending it. Spirit continues to be present throughout time & art keeps speaking in different ways. It evolves, depending on its listeners & they get what they need from it.
Thoughts on the higher spiritual nature of lyrics from this song.
You must listen & glean your own truth & pleasure & connection from the music.
18:22 – Cornell's friends have talked about what a light he was. Though his music reflected a darkness, he was a light. That darkness is the mystery, the energy that we all embody, but most are afraid to touch it. Some artists touch too far into it. We'll never know.
Alice in Chains' Jerry Cantrell's words to Rolling Stone about his grief over Cornell's death.
19:12 – The loss of a beautiful & deep musical artist makes us realize how important music is to our lives.
19:22 – Darkness would have us believe it wins. But the truth is that the light always prevails. Love always wins. Chris Cornell's music can never be snuffed out. It is with us forever. Rock on.

Sign up for Kimberly's newsletter to stay in the know about upcoming videos, courses, performances, & more! Get a free Instant Ignition Worksheet to help you tap into your most powerful creative energy when you confirm your subscription.