Podcast: Play in new window | Download (Duration: 1:10:14 — 80.4MB)
Subscribe: Apple Podcasts | Google Podcasts | Spotify | Stitcher | TuneIn | Deezer | RSS | More
The Naked Vibes Show features conversations with musicians, artists & healers to ignite your creative genius & elevate you in your spiritual growth.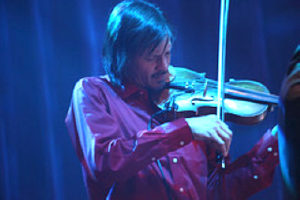 This episode features musician/songwriter, Reggie Rueffer of Spot (rock band formerly with Interscope Records) & touring violinist for Charlie Pride. His other bands/projects include The Hochimen & Mildred. In this radio archive, Reggie joined me in the studio to play live & to share his insights on the creative process. Some spicey conversation ensues.
SHOW NOTES:
2:34 – SONG: "Hymn" from the Heaven, the novel Soundtrack. Written & performed by Reggie Rueffer. This special version is only available on the complimentary CD that comes with the book.
7:57 – Story of how "Hymn" came to be. Reggie talks, with humor, about how easily he was able to write about religious issues mixed with sexual issues – & with the added challenge of writing from a woman's perspective.
10:40 – Example of how creative ideas are not our own, but are shared universally.
11:03 – Sexual repression brought on by outside forces shapes our relationships & ability to express ourselves.
11:56 – Sexual energy can be channeled through artistry & music. Great examples – Scott Weiland (Stone Temple Pilots) & Prince.
13:08 – SONG – LIVE PERFORMANCE: "Brush with Religion" – Tierra del Gato – Hochimen.
17:33 – Reggie & his brother, Chad, performed on the Local Honey Holiday Mix show with my sister, Kelly, & me. Reggie's favorite part of the night was when we did "Noelle Nouvelet" as Brothers & Sisters.
18:34 – Broad range of musical influences & perspectives – classical training from SMU + rock star bands Mildred (XTC-inspired rock 'n roll) & Spot.
19:17 – Mildred lyrics were inspired by Reggie's experience as a Christian.
19:54 – Perceptions of Frankly Scarlet, the band I shared with my sister, were often that it was a Christian band because we sang about Love & Consciousness. You can't remove who you are from your art.
20:38 – Expanding, through art, leads to places that are larger than religion. Music helps people connect on deeper levels.
20:56 – Great pop songs have always been written about "boy meets girl". Reggie originally wrote more about the issues of the day.
21:36 – True that you're perfectly who you are. Perfectly human. Mistakes & all. Recognizing this creates so much freedom.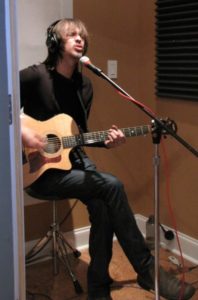 22:05 – Fun with the collaborative process between Reggie & me for the Heaven soundtrack, on "Exposed", by fictitious band XXX.
23:43 – Bands that play live exactly as the recording sounds often have no passion. It becomes craft instead of art. Art has to stretch. It can bring the darker human emotions a little closer to the surface, so we can recognize we're not alone in those feelings. Example: Van Gogh's paintings.
25:25 – SONG: "Exposed" – XXX – Heaven soundtrack. Only available on the complimentary CD that comes with the novel, Heaven. Written by KB Cain & R. Rueffer. Performed by Reggie Rueffer.
29:43 – Mistakes can turn out to be better than the original. When a voice cracks or someone hits the "wrong" chord, it can be a beautiful serendipity.
30:51 – The version of "Hymn" that can only be found on the CD that comes with Heaven, a novel is the original demo version & has more of a raw sexuality to it, more vulnerability. The Hochimen version on Tierra del Gato, called "Hymn To Them All" is more polished.
32:38 – Reggie is an accomplished violinist & fiddle player, touring with Charlie Pride.
33:31 – SONG – LIVE PERFORMANCE: "Hymn To Them All" – violin instrumental.
36:37 – What happens when an artist loses himself in "The Zone" & creativity flows without filters.
38:40 – Teaching young people that you have to learn skill first. Important to put in the hours to learn what you're doing – then you can let go to the passion of the music, the art.
39:23 – It's just like making love – think less & be a better lover!
40:05 – Rhythmic Movement Meditation tools help you connect with your highest state of excellence & primal essence, so you can shift your energy for greater clarity, courage, focus, & empowerment. A potent combination of your sexual energy combined with your spiritual energy. GET THESE POWERFUL MOVEMENT MEDITATIONS NOW!
• These clients had life-shifting experiences using these movement meditations. Listen to what they have to say. Please understand this is not a claim that you will have the same or similar experiences. Rhythmic Movement Meditations are simply tools to help you learn to shift your own energy through powerful practice.
41:55 – Passion, music, sexuality & writing new music.
43:17 – Spot – Reggie's band, with brother Chad, was signed to Interscope Records. You owe it to yourself to download this amazing album!
44:01 – SONG: "Good Fences" – Tierra del Gato – Hochimen. Written from a feminine perspective.
47:04 – SONG: "You Bum Ya" – Tierra del Gato – Hochimen.
51:27 – Reggie talks about the lyrics to "You Bum Ya" – preaching to himself to "pull his head out of his ass".
51:59 – Reggie's advice, "Have you ever had a passion? Laugh at yourself & try to find it."
52:07 – Deep messages – as artists, we're preaching to ourselves.
53:11 – "People are more passionate with their self-pity than with doing something positive." Get out there & find passion for doing something positive!
53:26 – How to start the process of changing your thoughts to benefit you in a more positive way.
54:12 – Creating the skill-set to "be spiritual" is the same as developing artistic muscles.
55:19 – Reggie reading Leo Hartong, "Awakening to the Dream" –  non-duality.
55:35 – When talking about spirituality & sexuality, people have trouble talking about non-duality, so we have to "marry" the feminine aspect to the male God. Then we see there's a unified Whole.
56:38 – Sounds trite, but the solution to war, on a global scale, starts with me in myself, then embracing you.
57:40 – Alan Watts – "differentiated unity" – it's not you against the world.
58:15 – SONG – LIVE PERFORMANCE of a new song Reggie's still working on as he tries to get in touch with his "inner dog".
1:02:09 – Joy of witnessing the creative process at work.
1:02:48 – Hochimen's album Totenlieder – songs about death. We're touching every deep subject we possibly can within an hour – love, sex, death, God, consciousness, & the creative spark!
1:04:25 – "God is a Flower" – Totenlieder – Hochimen
• The Naked Vibes Show is sponsored by RockItU – Get a Free Video to help you hone your intuitive skills for practical use in everyday life.
Sign up for Kimberly's newsletter to stay in the know about upcoming videos, courses, performances, & more! Get a free Instant Ignition Worksheet to help you tap into your most powerful creative energy when you confirm your subscription.