Podcast: Play in new window | Download (Duration: 41:10 — 47.1MB)
Subscribe: Apple Podcasts | Google Podcasts | Spotify | Stitcher | TuneIn | Deezer | RSS | More
Why is the connection of sexuality to spirituality so vital on both personal & global levels? This is a special edition of Tune Your Vibes on the The Naked Vibes Show in honor of International Women's Day.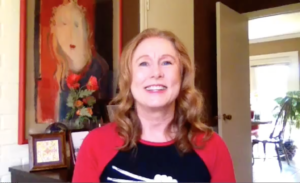 Show Notes:
Show sponsored by RockItU – Get a Free Video to help you hone your intuitive skills for practical use in everyday life.
2:12 – A friend worried that some might consider me to be too sexually "forward" with this message, so International Women's Day is a good opportunity to share why I find it important to connect sexuality to spirituality – & why it's more a message about human potential.
3:58 – Some really personal stories I've never shared publicly. They're important because they happen to most women at some point – different situations & scenarios, but with the same underlying issue.
4:06 – Story of the young guy who grabbed my breast in a gift shop. Was this guy an animal, a victimizer, or just a guy who hadn't learned how to channel his sexual energy?
6:21- Freak out – As a college freshman, a businessman ambushed me & planted a huge kiss right on my mouth when I delivered sandwiches to his office. Is that what the $100 tip was for?
9:03 – Many ways sex can be used inappropriately – stemming from the energy of anger, pain, loneliness, & fear. We can learn to channel it appropriately. It's not a women's issue, it's a human issue.
10:31 – A police officer seized an opportunity to whisper sexual innuendos in a professional situation when I worked for the Dallas Cowboys. It's not about getting him in trouble; it's about helping him & others learn how to channel their sexual energy in ways that truly empower him. This ain't it. Wonder why he has to catch a woman off guard to feel powerful?
13:26 – Corporations spend large amounts of money dealing with sexual harassment issues.
13:45 – An attorney used my vulnerability to unleash his sexual repression when I came to him for help. Maybe he's a good guy for the most part, but as a person in a service position who gains a woman's trust, then uses it to act out his personal fantasies, he disempowers himself at the same time he harms others.
16:30 – A producer hired me for a voice-over. When creative energy is flowing, it can be confused with sexual expression. He certainly forgot about the job he called me to do. Or was that really the job he was calling about in the first place?
17:08 – Heightened sexual energy is natural – primal – but must be understood better.
17:50 – My personal stories may help women feel less alone – we've all got stories. They may help men understand that their thoughts & desires are normal, but that they are actually more powerful when they learn to channel that energy well – in ways that benefit, rather than harm, others.
18:26 – Workplace sexual harassment is misdirected, inappropriately channeled, sexual energy. Anger can be masked as a sexual advance, using sex as a weapon. Men who fear the powerful draw of the feminine nature – you can learn to channel this & empower yourselves instead of disempowering others & degrading your own self-worth in the process. You can't hurt someone else without hurting yourself because we're all connected. In a workplace "harassment" situation, it's important to ask, "Does the punishment fit the crime?"
19:35 – Remo HealthRhythms provides an amazing release in the workplace! As a trained facilitator & also as a musician, I know the power of the drums for self-expression. Drumming channels primal energy. You can release sexual, creative energy in a way that empowers you & connects you to people in your community. It's a great way to get ahead of sexual harassment issues, instead of dealing with it on the back end.
20:39 – Misdirected sexual energy, on a global scale, is destructive to humanity.
21:13 – Heaven, a novel – I spent 10 yrs. researching as I wrote this book. Conversations with ministers, therapists, strippers, & people in general, were enlightening in regard to religious sexual repression.
21:50 – Story: A Somali woman I met while researching the book opens up about being a victim of religiously motivated FGM (female genital mutilation).
23:19 – Feminine sexual energy is powerful. The power of the female orgasm makes many people fearful.
25:00 – FGM brought into the U.S. – the American Medical Association is aware of it & refers to it as "nips & tucks". This can include the removal of the clitoris & more, & takes away much of the enjoyment of intercourse for a woman. The emotional & spiritual trauma are immeasurable.
27:05 – Our sexuality needs to be connected to spirituality, which is different than religious morality. The Catholic church has had its share of issues. When suppressed, it's going to come out in other ways that are unhealthy.
See yourself as a person who deserves to be here.
28:23 – Primal energy – it's not going away, so let's allow it to come out to play in healthy ways. Talk to one another – in appropriate ways & places. Honor one another.
28:38 – Husbands & wives – be honest & open with one another about your desires, about what's not being expressed or fulfilled. Recognize that you're a gift to one another – in body, mind & spirit.
29:58 – Sexual energy, when not channeled properly can become dark. It's intended to be expressed on the highest level of beauty & vitalty.
30:45 – We often think of the feminist movement of the late 60's / early 70's as a "burning of the bra" phase. Feminism is not about the woman's turn to be on top! It's about embracing the energies we each (women & men) bring to the table & dancing with it in the most powerful way. We're here to support one another!
32:16 – There's an idea that powerful women can emasculate a man. Well, that's not a picture of a powerful woman! A truly powerful woman is not only bold & beautiful, she's compassionate & vulnerable. There's no need to fear her, but if you take advantage of that vulnerability, that's when you may see what you fear. Honor her! Then the opposite of what you fear will come about – you'll feel awesomely masculine! She is the mirror of that energy in you.
33:47 – Workplace – a woman is not there to act in the masculine. The dance between masculine & feminine helps unearth solutions to problems. There's more money to be made, more creativity to blossom!
34:50 – We ALL need men to learn to channel sexual energy appropriately & powerfully. It brings deep love & freedom to families & to our global community. Otherwise, people are always looking for something "different" or "better", resulting in stress, over-working, affairs, divorce, & generally living unfulfilling lives.
36:41 – Femininity means connecting our spirituality to our sexuality. Sign up for my newsletter at KimberlyCain.com & get an Instant Ignition Worksheet. It's got some exercises, ideas & questions for you to ponder to get your most powerful juices flowing – body, mind, & spirit – & help you tap into the unique & powerful energy you have available to you.
38:13 – The Naked Vibes show – conversations with musicians & creatives, love-makers & world-shakers – to help you bring creative energy more powerfully into your life & into the world.
39:08 – International Women's Day is about human potential!
Let's all be our best by connecting to the "feminine" energy within all of us to be naked & unashamed, to be vulnerable, yet powerful.
The Naked Vibes Show is sponsored by RockItU – Get a Free Video to help you hone your intuitive skills for practical use in everyday life.